Displaced Communities

BALTIC GERMANS (150,000
displaced by Hitler & Stalin; 95%+)

GERMANS OF YUGOSLAVIA
(over 200,000 expelled, imprisoned, displaced, emigrated; 98.5% total)

VOLGA GERMANS (over 400,000 expelled by Soviets to Kazakhstan)

DUTCH GERMANS (3,691 expelled,
15% of German population)

GERMANS OF ALSACE-LORRAINE
(100-200,000 expelled after WWI)

GERMANS OF CZECHOSLOVAKIA
(over 3,000,000 expelled
and displaced; 95% total)

GERMANS OF HUNGARY
(over 100,000 expelled, over
300,000 displaced; 88% of total)

GERMANS OF ROMANIA
(over 700,000 or 91.5% displaced by Hitler, USSR, & emigration)

US Internment of German-Americans, Japanese, & Italians
(10,906+ interned & blacklisted) NEW!

GERMANS OF POLAND, PRUSSIA
(over 5,000,000 expelled and displaced, nearly 100%) COMING SOON

GERMANS OF RUSSIA/UKRAINE
(nearly 1,000,000 to Germany and Kazakhstan) COMING SOON




Other Information

OUR YOUTUBE CHANNEL NEW!
(documentaries, interviews, speeches)

Follow us on FACEBOOK NEW!
(for updates, events, announcements)

From Poland, to Czechoslovakia, to Occupied Germany: My Flight from the Red Army to the West
(memoir about wartime flight & Jewish, Polish, & German daily life near Auschwitz) NEW!

Daily Diary of Forced Labor in the Mines of Soviet Ukraine NEW!

The problem of classifying German expellees as a 'genocide'

Why the German, Czech, and Polish governments reject expellee commemoration

Distorted historical memory and ethnic nationalism as a cause for forgetting expellees

Ethnic bias and nationalist revisionism among scholars as a cause for forgetting expellees

The History and Failure of Expellee Politics and Commemoration NEW!

Expellee scholarship on the occupations of Czechoslovakia and the Sudetenland, 1918-1945

Sexual Violence and Gender in Expellee Scholarship and Narratives

Comparative Genocide Table

Suggested Resources & Organisations

The Staff/Contact Us

In Memoriam: Your Expellee
Relatives & Survivors

Submit content and information

How to support German expellees / expellee political lobbies

Bookmark IREG to Favourites!

Donate to the Institute

Affiliates/Partners

Link to Us/Refer a friend

Sitemap

Privacy Policy/Copyright
IN MEMORIAM: YOUR EXPELLEE RELATIVES & SURVIVORS
If you would like to submit a dedication to an individual or relatives related to the expulsions (along with a photograph), please inform us of your request in an email. Please include any of the following: a personal message, dates or lifespan, nationality, his/her ultimate fate, etc.
Josef Benesch (1920-1999): Born in Klatovy, Czechoslovakia, he came to the Unites States after serving in the Czechoslovakian resistance during WWII. He spent two years as a political prisoner at the infamous Bory prison in Plzen until his escape in 1950.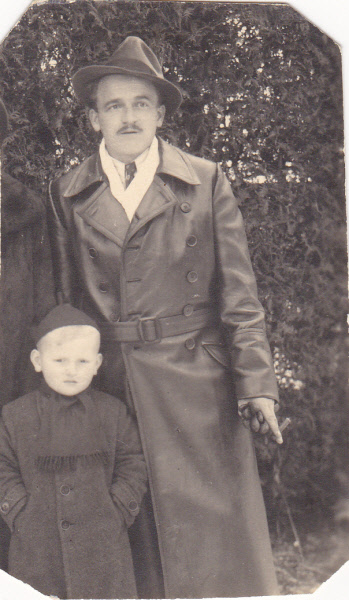 John Knodel, an ethnic Danube Swabian from Harta, Hungary, was imprisoned as a forced laborer in a Ukrainian coal mine for 33 months after World War II by the Soviet Union. Read his day-to-day diary in our article here.